What to Know Before Travelling to Kanyakumari
If you plan to visit Kanyakumari, you must know a few things about this gorgeous coastal town before fixing an itinerary. You must know the best season to visit Kanyakumari, the must-see places you shouldn't miss, how to reach the city, and so on. If you are looking for affordable hotels in Kanyakumari, visit us at The Gopinivas Grand Hotel.
We are one of the best hotels in Kanyakumari, constantly aiming to provide our guests with the best services and amenities. We are situated in the heart of Kanyakumari and close to major attractions. We're conveniently located, providing guests with a perfect sunrise and sunset view. Whether you're craving delicious food or looking to relax by the sea, reach out to us and book your accommodation in Kanyakumari.
How to Reach Kanyakumari
Thiruvananthapuram International Airport and Tuticorin Airport are the closest airports to Kanyakumari. While Thiruvananthapuram is situated at a distance of 82 km, the latter is 89 km from Kanyakumari. You can easily get a cab or bus from the airport. There are several trains that connect various Indian cities to Kanyakumari. The Kanyakumari Express is well-connected to major cities like Bengaluru (KR Puram) and Mumbai.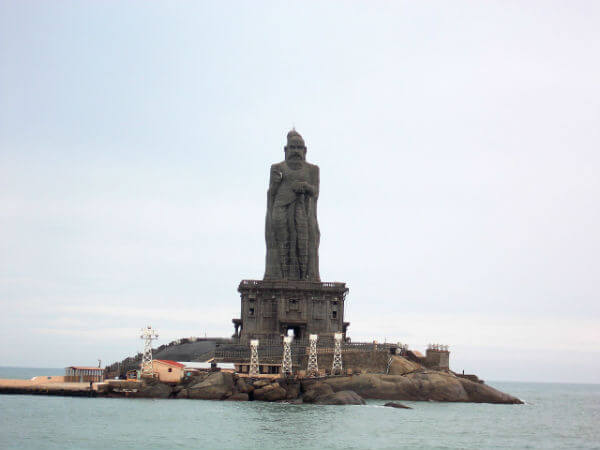 Best Season to Visit Kanyakumari
The best time to visit Kanyakumari is during the winter season, which lasts from December to February. Between October and March, the maximum number of tourists visit Kanyakumari to experience the pleasant weather.
The winter months allow you to explore Kanyakumari, with the weather being cooler and more pleasant and the humidity not bothering the travelers. This makes it the perfect time to indulge in sightseeing and outdoor activities. It's also when the popular Cape Festival is celebrated.
The summer season in Kanyakumari lasts from March to May, with temperatures ranging from 20 to 35ºC. Since it's a coastal town, you can expect summer heat and humidity. Although the city sees a crowd amidst the heat, you might want to avoid this period to relish your sightseeing activities without sweating too much.
Kanyakumari's monsoon season takes place between June to September. Although the rains bring in a pleasant breeze, travelling around the city can get tricky with it raining intermittently. Some tourists also prefer to avoid slippery roads in mountainous regions.
Places to Visit in Kanyakumari
There are numerous places to visit in Kanyakumari, whether you stay for a week or a weekend. Some of the most iconic spots in Kanyakumari are as follows:
Vivekananda Rock Memorial
Thiruvalluvar Statue
Bhagavathy Amman Temple
Gandhi Mandapam
Kanyakumari Beach
Padmanabhapuram Palace
Our Lady Of Ransom Church
Vattakottai Fort
Mathur Aqueduct
Mayapuri Wonder Wax Museum
Tsunami Monument
Sunset View Point
Olakaruvi Falls
Lord Subramanya Temple
Mathoor Hanging Bridge
Thirparappu Falls