Everything You Need to Know About Tsunami Memorial Park
Kanyakumari is a coastal town in Tamil Nadu, situated at the southernmost tip of the country. It is a fabulous holiday destination with beaches, museums, churches, and temples. For instance, the Tsunami Memorial Park is a must-visit if you love architecture. The structure also has a more profound significance since it was built in honor of the people who lost their lives in the tsunami that struck Tamil Nadu in December 2004.
If you're looking for hotels near Tsunami Memorial Park Kanyakumari, visit The Gopinivas Grand Hotel. We are here to make your trip even more comfortable and luxurious. As one of the most premium hotels in Kanyakumari, we aim to provide our guests with the most outstanding services and amenities, including valet parking, high-speed internet, and a restaurant that serves the perfect mix of South Indian, Asian, North Indian, and continental food. So, reach out to us to book your rooms in Kanyakumari immediately. Visit us!
About the Tsunami Memorial Park in Kanyakumari
The Tsunami Memorial Park is not only a tribute to numerous souls who lost their lives in the 2004 tsunami but is also a testimonial to the strength of human beings. It shows how people can rebuild their lives even amidst the direst of circumstances. Tourists around the world visit the spot to pay their respects and marvel at this unique structure. Even the ones who survived the calamity frequent the location to pay their respect.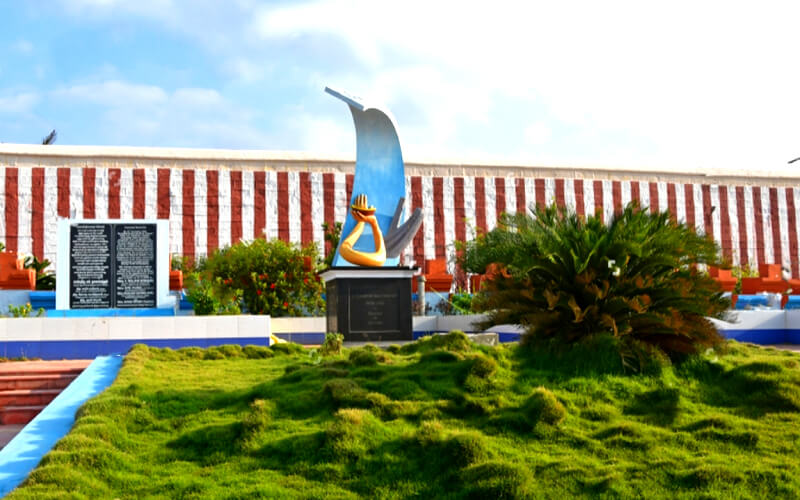 B. Kanagaraj Cangan is the architect and designer who built this 16-foot-high structure created out of pure steel, containing a black plaque that mentions the date of the tsunami. The plaque reads 'In memory of those who lost their lives in Tsunami on 26-12-2004'. The statue displays two hands, one holding a hope lamp and the other holding a huge wave at bay, depicted in blue. It's a symbol of how human beings can stay hopeful even during the darkest of days.
The Tsunami Memorial Park is situated on the shores of the mesmerizing Kanyakumari Beach, with a garden-like ambiance. The atmosphere surrounding the monument is serene and peaceful despite the heartbreaking aura that engulfs it. Tourists can also witness other structures created in a contemporary design along with the main structure.
The Tsunami Memorial Park is around 100km from the Trivandrum International Airport. Revered as one of the most important places to visit in Kanyakumari, the park is located 1.5 km from the Kanyakumari State Transport Corporation Bus Stand and about 1.3 km from the Kanyakumari Railway Station. Being well connected to the bus stand and the railway station, one can easily reach the spot using a cab, bus, or auto.