What to Know If You're Traveling to Kanyakumari As a First Timer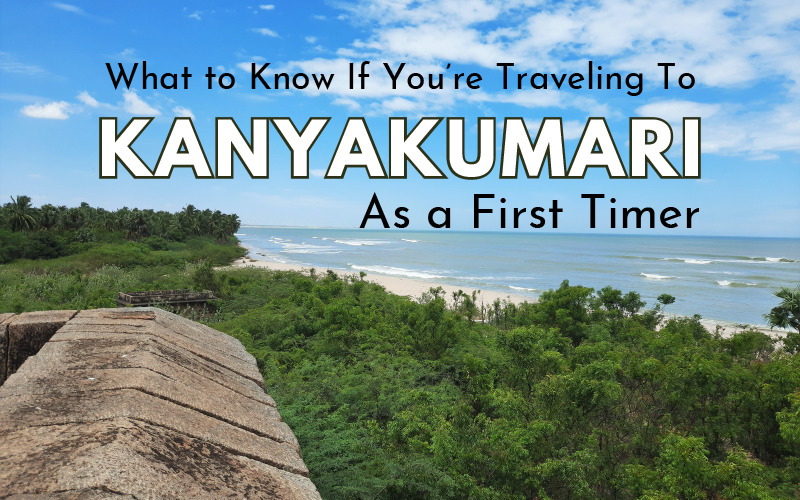 Kanyakumari is a great place to explore and experience two different cultures in one place, viz., Tamil and Kerala cultures. Bordering with Kerala, and being part of the erstwhile Travancore Kingdom, there's no doubt that Kanyakumari is God's Own Place in Tamil Nadu. Here is a quick Kanyakumari travel guide for first timer:
What Are The Places To Visit In Kanyakumari?
No Kanyakumari travel guide as a first-timer is complete without a visit to the following places.
Bhagavathi Amman Temple – This temple is dedicated to Goddess Kanyakumari, or Virgin Goddess, a child-like form of Goddess Parvathi. She is believed to have done penance to win the heart of Lord Shiva.

The Thomaiyar Kovil – This is one of the oldest churches in Tamil Nadu, or even India, and is believed to have been built by St Thomas the Apostle to provide shelter to the converted Hindus from Mylapore.

Stanumalayan Temple – The Stanumalayan Temple is dedicated to the trinity of Brahma, Vishnu, and Mahesh. It is believed to have been built during the 17th century, although some parts of the temple are as old as the 7th or 8th century.

Nagaraja Temple – This temple is dedicated to Lord Nagaraja. Devout Hindus believe that praying to Lord Nagaraja relieves them of all naga doshas, including ancestral doshas.

Chothavilai Beach – This is a quiet and picturesque beach favoured by locals who come in droves with their children during weekends and holidays.

Padmanabhapuram Palace – Padmanabhapuram was once the capital of the Travancore Kingdom but was later moved to Thiruvananthapuram by Raja Marthanda Varma. It is one of Asia's largest and oldest wooden palaces.

Mathoor Trough Bridges – This is Asia's longest trough bridge, carrying water to dozens of villages for irrigation purposes.
Restaurants In Kanyakumari
If you are looking for the best restaurants in Kanyakumari, head straight to The Curry, an elegant multi-cuisine restaurant offering a wide range of Indian and international cuisine. But if you're looking to sample some local food, head to Hotel Prabhu for some biryani and mutton chukka. Vegetarian lovers can head to hotels like Hotel Arya Bhavan and Hotel Gowri Sankar across the city. But to sample some parotta and beef or chicken, head to some parotta stalls spread across the city. If you are a seafood fan, lead to some of the stalls set up in the main bazaars in Kanyakumari. To buy local sweets and savouries like jackfruit chips, plantain chips, and tapioca chips, head to Ramalakshmi Sweet Stall in Nagercoil City.
The Best Time To Visit Kanyakumari
The best thing about Kanyakumari is its moderate climate. A weather that's too hot is almost always followed by rain. Throughout the year, the temperature is mild and pleasant. But the summers can be overwhelming.
Visit us if you are looking for hotels in Kanyakumari that are affordable and yet luxurious.