Interesting Things to Explore in Kanyakumari
Everyone deserves a relaxing getaway now and then to clear their minds and destress. If you're looking for a place that combines tradition and modernity, head on to Kanyakumari. Located at the southernmost tip of India, Kanyakumari is a gorgeous coastal town abundantly blessed with natural beauty. This serene town is also famous for its unique temples, centuries-old churches, rock-cut temples, and handicrafts. Read on to learn more about four famous things in Kanyakumari.
While enjoying a holiday in Kanyakumari with friends or family, you would surely want to stay somewhere comfortable and convenient. The Gopinivas Grand Hotel strives to provide guests with the best services and the finest amenities – from valet parking and a high-speed internet connection to spacious suites and a restaurant to satiate all your food cravings. To book a room at one of the best hotels in Kanyakumari, contact us to learn more about the accommodation details and fix your stay immediately!
Things to Try Out in Kanyakumari
Wondering what are some of the best famous things to do in Kanyakumari? Let us help you out:
Visit Vivekananda Rock Memorial
For history lovers, the Vivekananda Rock Memorial is the perfect place to visit, for it carries both religious and historical significance. Inaugurated in 1970, it was built in honor of Swami Vivekananda, who was the founder of the Ramakrishna Mission and a disciple of Ramakrishna Paramahamsa. In 1892, Swami Vivekananda visited Kanyakumari, after which he left for Chicago to attend the World Religious Conference. Post the conference, he returned to Kanyakumari and meditated for two days at the very spot where the memorial now exists.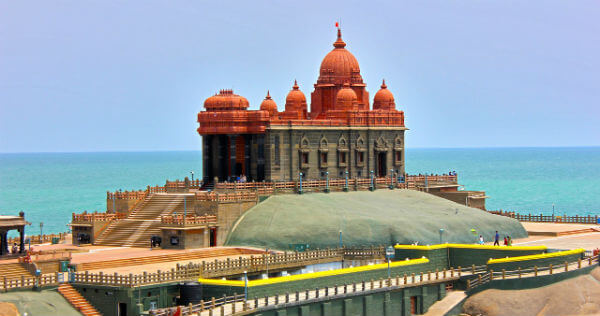 Witness the Padmanabhapuram Palace
Do you find architecture fascinating? If so, the Padmanabhapuram Palace is a must-visit spot when you travel to Kanyakumari. This wooden palace was constructed in the 16th century by Raja Ravi Varma Kulasekara Perumal by exquisitely blending craftsmanship and art.
Experience the Beauty of the Courtallam Falls
Renowned for its beauty and ferocity, the Courtallam Falls is a major attraction in the neighboring district of Tirunelveli. Boasting a height of 160 meters, the falls are surrounded by lush greenery and peaceful hills. The water is also believed to have medicinal properties, and the fall's shape resembles the cobra's five-headed hood. The location is a popular film shoot location and has been the backdrop of several Bollywood and South Indian movies, including the award-winning film Roja.
Walk Around Kanyakumari Beach
If you're wondering what is special about Kanyakumari to include in your itinerary, you must add Kanyakumari Beach to your list. Also known as Cape Comorin Beach, it is situated at the convergence of the Arabian Sea, the Indian Ocean, and the Bay of Bengal. The minute you wish to get away from the hustle and bustle around you, walk around Kanyakumari Beach and the soothing sights of the sunrises and sunsets are bound to win you over.
Having the unique feature of multicolored sand, this beach has more of a rocky aesthetic, and tourists are usually advised to be careful of the rocks. The lighthouse at Kanyakumari Beach offers a fantastic view of the entire ocean and the surrounding ambiance.
Visit us or contact us to book your accommodation in Kanyakumari, and we will help you based on your needs and requirements.