4 Tips to Help You Plan A 24-Hour Trip to Kanyakumari
Kanyakumari is an excellent destination for beach and nature lovers. And, of course, the beautiful temples. But if you've starved of time and don't have more than 24 hours to explore and experience our mesmerising city, we can help you plan a quick trip to Kanyakumari. If you are looking for comfortable and budget-friendly accommodations in Kanyakumari, visit us.
Day 1 – Before Noon: Bhagavathi Amman Temple, Kanyakumari
The sunrise in Kanyakumari is one of the main attractions of the place. We suggest you check in the day before to ensure you don't miss the early sunrise. After you witness this magical sunrise, we suggest you head to the Bhagavathi Amman Temple for a darshan of the virgin goddess. If time permits, you may visit the Vivekananda Memorial, especially the Meditation Hall within the memorial. And don't forget to visit the Thiruvalluvar Statue.
As the day progresses, and if time permits, you can visit the many bazaars around the temple, selling a wide range of shell-based handicrafts, Bengali sarees, spices, and conches. For lunch, head to The Curry, our multi-cuisine restaurant, serving delicious food.
After Noon: Suchindrum Temple, Nagaraja Temple
You must visit Sunchindrum Temple if you plan a trip to Kanyakumari. This 17th-century temple is dedicated to the Trinity of Lord Brahma, Vishnu, and Mahesh, also called Stanumalayan. It is believed that it was in Suchindrum that Lord Indra was relieved of his curse
from Gautama Muni for misbehaving with his wife – hence the name suchi (purify) indirum (Indiran). When in Suchindrum, you must not miss the 22-foot Hanuman statue.
The next stop is Nagaraja Temple, dedicated to Nagaraja, the Serpent King. Praying at Nagaraja Temple is believed to cure you of naga doshas. Some think it was earlier a Jain temple that was later converted into a Hindu temple. There are other reports that a local king was cured of leprosy miraculously after praying here. It was later that the king undertook the renovation of the temple as a token of gratitude. To the uninitiated, nagas are serpents that take human form and are considered guardians of treasures.
If time permits, you can visit the local stores to buy plantain chips and other local delicacies. Ramalakshmi Sweet Stall in Nagercoil is a popular choice for sweets and savouries.
Other Places You Can Visit If You're Not Visiting The Temple
There are plenty of other places you can visit if you plan to visit Kanyakumari. The Padmanabhapuram Palace on the way to Thiruvananthapuram is a popular choice. Some of the other places include – Maathur Hanging Bridge, which is South Asia's longest trough bridge, Adi Keshava Temple, Chothavilai Beach, Thiruparappu Waterfalls, Kalikesam, and the Thomaiyar Kovil.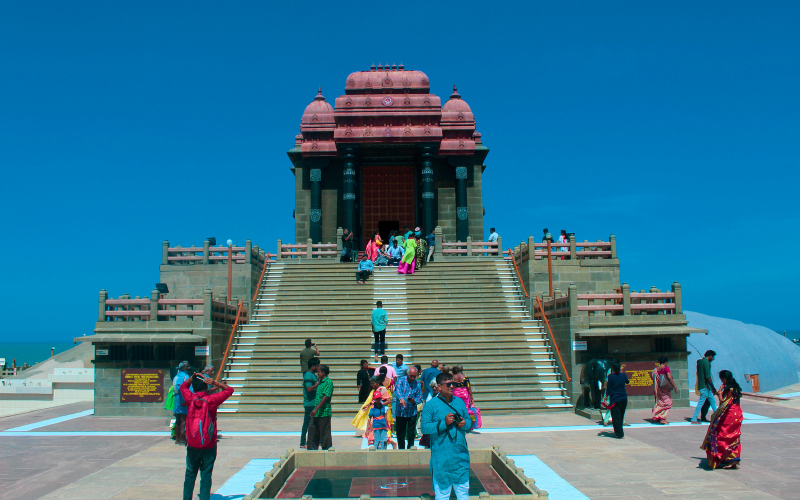 Important Information About The Places You Visit:
Vivekananda Memorial Rock Timings – 8 am to 4 pm
Bhagavathi Amman Temple Timings – 4.30 am to 12.30 and from 4 pm to 8 pm
Suchindrum Temple Timings – 4:30 am to 12:30 am and from 5 pm to 8 pm
Nagaraja Temple Timings – 4 am to 12:30 am and from 5 pm to 8 pm
Padmanabhapuram Palace – 9 am to 4:30 pm, except Mondays
Call us to learn more about temple timings and to book hotels near the beach in Kanyakumari.