Popular Tourist Places Near Kanyakumari Hotels | Thirparappu Falls
Popular Tourist Places Near Kanyakumari Hotels | Thirparappu Falls
If you haven't visited Kanyakumari city yet, you're surely missing a wonderful chance to explore and enjoy nature. This beautiful city has the best of all – luscious green mountains, paddy fields, and a vast coastline.
Kanyakumari is also famous for the Triveni Sangam, where the Bay of Bengal, Arabian Sea, and the Indian Ocean intersect. Such a confluence of three water bodies is considered sacred by the Hindus. Other popular tourist places near Kanyakumari hotels include the Mathoor Aqueduct and the Thirparappu Falls. Read on if you'd like to learn more about the latter: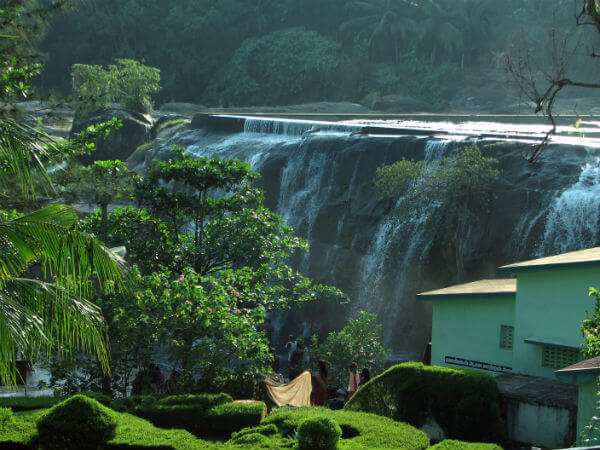 Why Visit Thirparappu Falls?
Thirparappu Falls is an artificial waterfall created to supply water from the Pechiparai dam to local farmers in and around Thirparappu. This is where the Kodayar river descends from a height of 50 feet for about seven months every year. The bed above the falls is a rocky mass that extends up to 300 metres upstream – this is where the weir is constructed. Water that flows from the weir forms a pool where kids can enjoy swimming. Although not as grand as the Courtallam Falls, Thirparappu offers a pleasant experience. It is less crowded as it is not as popular among tourists and is often only frequented by locals.
On the left side of the river banks is a famous Shiva temple believed to have been constructed around the 9th century AD. People often visit the temple after enjoying a swim in the water. The district administration recently built a swimming pool for children. There's also a park nearby with swings and plenty of play areas for kids.
The falls are unsafe during the rainy season because of heavy flow and hence closed for the public. In some seasons, there's little to no water in the reservoir. But before visiting the place, we suggest checking with the local guide or hotel staff about the Thirparappu Falls season.
When And How to Visit Thirparappu?
Summer and winter months are the best time to visit the falls, although it is also crowded during this time of the year. The falls are open from 7 am to 6 pm, with the entry fee being Rs. 5 per person with an added Rs. 75 for video and Rs. 5 for the camera.
If you are looking for tourist places near Kanyakumari hotels, we suggest contacting the concierge at the Gopinivas Grand. We'll not only guide you to the place but suggest nearby attractions as well. Our team can also arrange for taxi service at affordable rates.
With comfortable amenities and unmatched hospitality, we promise to make your stay memorable and pleasant. Call now to inquire or book a room at The Gopinivas Grand Hotels in Kanyakumari. Follow the link https://g.page/r/Cc0walvxFpQpEAE to reach our hotel in the shortest possible time.