Must-Visit Hidden Tourist Places in Kanyakumari
Whenever you think of Kanyakumari, the Thiruvalluvar Statue, Vivekananda Rock Memorial, and a few other famous places comes to mind. But did you know there are less crowded hidden tourist places in Kanyakumari that are less crowded but equally spectacular? We've listed a few for you:
1. Hidden Twin Beach
As the name suggests, The Hidden Twin Beach is one of the least explored places in Kanyakumari. It is just 2.6km from Kanyakumari, but the road to the beach is beautiful, offering a great view of the vast sea. The promenade provides a perfect resting place for tourists to sit and relax while glancing at the sunset and the Vivekananda Memorial from a distance. The sandy beaches and rocks make it an excellent spot to enjoy with friends and family. The Hidden Twin Beach is one of the most romantic places in Kanyakumari.
2. Rasthakaadu Beach
Rasthakaadu Beach is located in the Northeast of Kanyakumari and only 9 minutes from Anjugramam. This underrated spot is mainly visited by locals who love the place for its beautiful view and clean shore. This beach is much cleaner than other beaches, making it an excellent place to swim and bathe. You can visit Rasthakaadu Beach in the evening to enjoy the sunset and experience one of the most romantic places in Kanyakumari. Rasthakaadu Beach is one best spot for your pre-wedding photoshoots.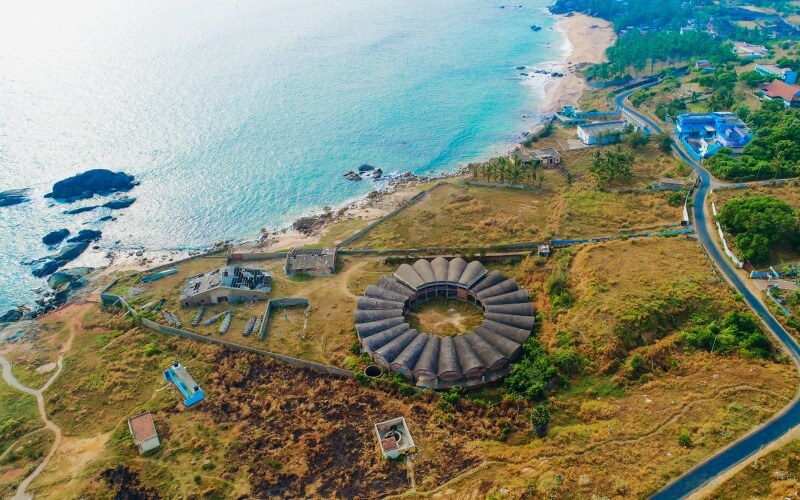 3. Perunchani Dam
Perunchani Dam is located at a distance of 56 km from Kanyakumari. This is just the right spot to plan a small trek with family. The Perunchani Dam was built in the late 50s and is part of the Kodayar irrigation system. The thick forest of the Western Ghats and the waters of the Paralayar river makes it a must-visit place near Kanyakumari. If you're looking for hotels in Kanyakumari for the family, visit The Gopinivas Grand, with high-class amenities.
4. Marunthu Kottai Fort
Marunthu Kottai Fort, or the Fort of Medicine, was built in the 17th century during the reign of King Bala Marthanda Varma. This fort was then used to treat soldiers, hence the name Fort of Medicine. Though the fort is in ruins and is covered by greenery, it is one of the best historical places in Kanyakumari. It is situated at a height of 895 feet above sea level and is at a distance of 36 km from Kanyakumari. Bikers and trekkers now visit this rare place. The Marunthu Kottai Fort is one of the best-hidden tourist places in Kanyakumari.
5. Muttom Beach
Situated at a distance of 30 km to the west of Kanyakumari, Muttom Beach is a perfect assortment of sandy beaches, rocks, pebbles, and endless ocean waters. Muttom Beach is a fishing village nearby offering a view of the fishing and other activities. You could book accommodation in Kanyakumari to enjoy these unexplored places.
Book your stay in one of Kanyakumari's convenient and comfortable hotels – The Gopinivas Grand. Contact us at +91 88254 66315 for more information. Click on this link https://g.page/r/Cc0walvxFpQpEAE to reach out to us.