Best Historical Places Near Kanyakumari Hotels
Kanyakumari was dubbed 'Cape Comorin' by the British, who found it difficult to pronounce the traditional name. The old Tamil name for the place is Koodal, meaning, The Land of Three Seas, referring to the confluence of the Arabian Sea, Indian Ocean, and the Gulf of Mannar. There are plenty of best historical places near Kanyakumari hotels, including beaches, temples, churches, and plenty of natural attractions. Read on to learn more about the top three.
Here are the top 3 historical places near Kanyakumari hotels that every historical lover must visit once in their lifetime:
Padmanabhapuram Palace
Padmanabhapuram Palace is one of the best historical tourist places in Kanyakumari and the largest wooden palace in Asia. It is over 400 years old and spread around 6.5 acres. The palace was constructed over several years, with the core Kalkulathu Koikkal built by Iravi Varma Kulasekara Perumal. It includes multiple complexes – Mantrasala, Thai Kottaram, Natakasala, Thekee Kottaram, and a four-storied building, each of these was built over time by different rulers. Every complex is unique. For instance, the floors in the Durbar Hall are made using burned coconut shells, egg whites, jaggery, lime, charcoal, and river sand. The Thai Kottaram or Queen Mother's palace is the oldest complex built by Ravi Varma Kulashekhara Perumal. One of the pillars in the complex is carved out of single wood with fine engravings and is an ode to the craftsmanship of Indian carpenters.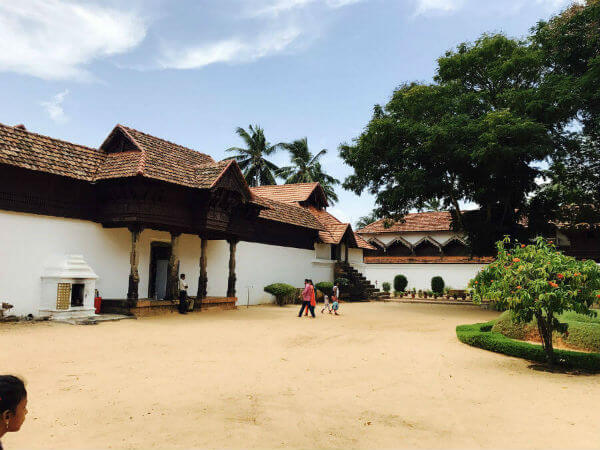 Thanumalayan Temple
The Thanumalayan Temple is one of the few temples dedicated to Trimoorthi, where Brahma, Vishnu, and Mahesh are depicted in a single idol. While parts of the temple date back to the 8th and 9th centuries, it was renovated in the 17th century with help from the Travancore Kings. The temple is also famous for the 22feet Hanuman statue carved out of a single granite block. It is believed that the statue was hidden underground under fear of an attack from Tipu Sultan. Years later, it was reconsecrated and opened for public viewing.
Bhagavathy Amman Temple
Bhagavathy Amman Temple is a must-visit historical tourist attraction in Kanyakumari. The temple is famous for the nose ring on Goddess Bhagavathy Amman. It is believed that the diamond nose ring is so bright that a ship once mistook the sparkle to be of a lighthouse and got shipwrecked. Today, the temple's eastern entrance is open only once a year during the Chitra Pournami festival. The main deity Kanyakumari Amman is believed to have taken the virgin form to defeat the Asura king Bana who had attained a boon that only an adolescent virgin girl could kill him.
Finding a good hotel is as important as visiting different historical tourist places in Kanyakumari. The Gopinivas Grand Hotel is a premium hotel in Kanyakumari offering the best services, including multi-cuisine food and well-furnished accommodation. Follow the link https://g.page/r/Cc0walvxFpQpEAE to reach our hotel in the shortest possible time.