4 Best Photoshoot Places in Kanyakumari
Kanyakumari is full of beautiful places and surprises. It is not only famous for its Triveni Sangam but also for its natural and scenic beauty. A few famous Tamil and Malayalam movies were shot in this city. If you're looking for photoshoot places in Kanyakumari, read on before exploring Kanyakumari.
1. Kanyakumari Beach And Rock Pier
What's more fantastic than a photoshoot at a beach? Kanyakumari beach is famous for its sandy shores and rocks making it one of the Instagrammable places. The Kanyakumari Pier nearby is a narrow strip made up of large rocks and mud through which you can reach the sunrise point at the end. The beach and Kanyakumari pier are just a 15 minutes walk from The Gopinivas Grand. The sunsets here are the best making it one of the best photoshoot places in Kanyakumari. Check out the rooms here.
2. Vivekananda Rock Memorial
Kanyakumari's most popular place is the Vivekananda Rock Memorial. This place is situated near the Triveni Sangam and offers the best view of the Indian Ocean. Among other attractions, this place includes a life-size bronze statue of Swami Vivekananda and a mediation hall. Moreover, Swami Vivekananda is believed to have received enlightenment on Spripada, a huge rock that is millions of years old and around 500 meters from the mainland. You have to pay an entry fee and a camera fee for photography and videography. Since this place is usually crowded, choose the best time to reach this place. Book your stay at The Gopinivas Grand – one of the best hotels in Kanyakumari.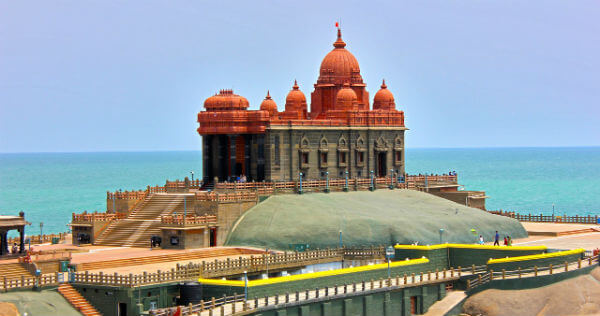 3. Padmanabhapuram Palace
If you're looking for indoor photoshoot places in Kanyakumari with a touch of tradition, visit the Padmanabhapuram Palace. Located an hour's drive from Kanyakumari, Padmanabhapuram was once the capital of the Travancore Kingdom. The palace's historic architecture, decorated with greenery outside, makes it one of Kanyakumari's best-paid photoshoot places. Though indoor photoshoot is allowed, entry is restricted to a few rooms within the palace.
4. Vattakottai Fort
Vattakottai, which translates to 'circular fort,' is not circular but rectangular. Built by the Travancore Kingdom in the 17th century, this fort is situated on the seashore, offering a stunning view of the Bay of Bengal. This is indeed one of the best free photoshoot spots in Kanyakumari. The entry is free – you could enjoy your photoshoot with breathtaking views. Vattakottai is located just 7kms from Kanyakumari town. If you're looking for affordable accommodation in Kanyakumari, book your stay at The Gopinivas Grand.
If you're planning to visit photoshoot places in Kanyakumari, book your stay at one of the top-notch hotels in Kanyakumari – The Gopinivas Grand. Contact us at +91 88254 66315 for more information. Click on this link https://g.page/r/Cc0walvxFpQpEAE to reach out to us.