What You Need to Know About the Baywatch Park in Kanyakumari
India has numerous states and cities that offer many sightseeing opportunities to tourists from around the world. However, we often want to escape somewhere quieter and more lowkey, and Kanyakumari serves as one such peaceful destination. Located in the southernmost tip of India, the coastal town of Kanyakumari is a potpourri of monuments, temples, beaches, and lots more. Among its many famous sports, the one you absolutely shouldn't miss out on is the Baywatch Park in Kanyakumari.
If you're looking for hotels in Kanyakumari that will provide you with the best utilities, The Gopinivas Grand Hotel will be more than happy to welcome you. Our team will ensure that your stay is filled with comfort and convenience. In addition to creating a refreshing environment and supplying modern amenities, we arrange for the most scrumptious cuisine for our guests to relish. We are within walking distance from all major tourist attractions in Kanyakumari, including the beach, the Bhagavathi Amman Temple, and the shopping bazaar. Visit us!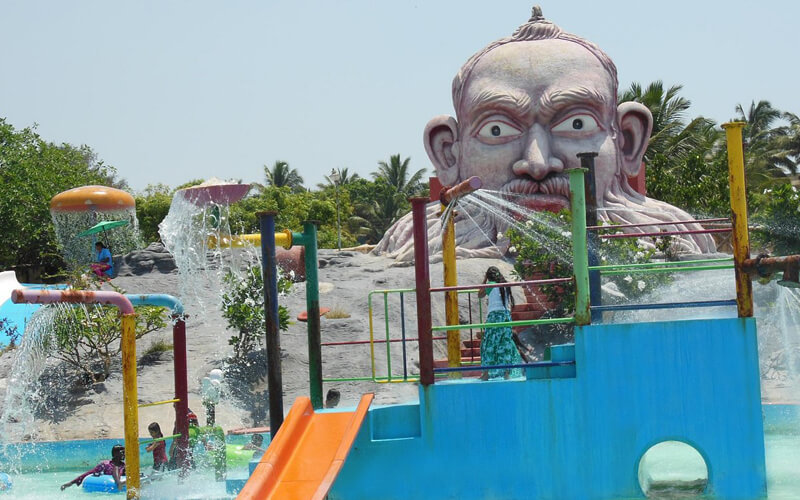 About Baywatch Park
Baywatch Park is the first water-based park created in Kanyakumari. Featuring rides and activities that are fun for people of all ages, especially children, this water park has become a major tourist attraction and also a regular hangout spot for families and locals to visit during the weekends.
Since Kanyakumari is a coastal place that remains warm throughout the year, this park is a way to rescue yourself from the heat as you feel the cool breeze on your face and indulge in water-based fun. Special swimming pools are built within the facility for children, and changing rooms where swimming suits are available.
Some exciting rides in the park include giant wheels, hot teacups, crazy chairs, bumping cars, sky cab, wave pool, Columbus, multiple splashes, and milky way. The park was built to bring more tourists from around the globe to Kanyakumari. Shree Bhadra Parks and Resorts Limited took on the project to build high-tech amusement and theme parks at major tourist centers in south-Indian cities.
The Baywatch Park is regarded as one of the country's first edutainment spots and was developed to increase the visibility of Kanyakumari in the Indian subcontinent. The team that handles the park's management is well-reputed for being quality-oriented and providing the best of the best facilities, hygiene, and cleanliness to their customers. Baywatch Park is one of the few in the field to receive certification for safety and security for its rides.