What to Know About the Kanyakumari Tirupati Temple
India as a country is a glorious potpourri of states and cities that contain innumerable sights for travelers to explore. For those of you searching for something more lowkey and serene, Kanyakumari serves as the perfect destination. Situated at the southernmost tip of the country, this gorgeous coastal town has a fabulous combination of beaches, temples, monuments, and much more. Among the multiple tourist spots to visit in Kanyakumari, the one you absolutely shouldn't miss out in the Kanyakumari Tirupati Temple.
If you're looking for hotels in Kanyakumari that will provide you with the best utilities, then we at The Gopinivas Grand Hotel will be more than happy to welcome you and ensure that your stay is comfortable and convenient. In addition to creating a refreshing environment and supplying modern amenities, we arrange for the most scrumptious cuisine for our guests to relish. Among other services, we also offer high-speed internet, valet parking, and laundry services. Visit us!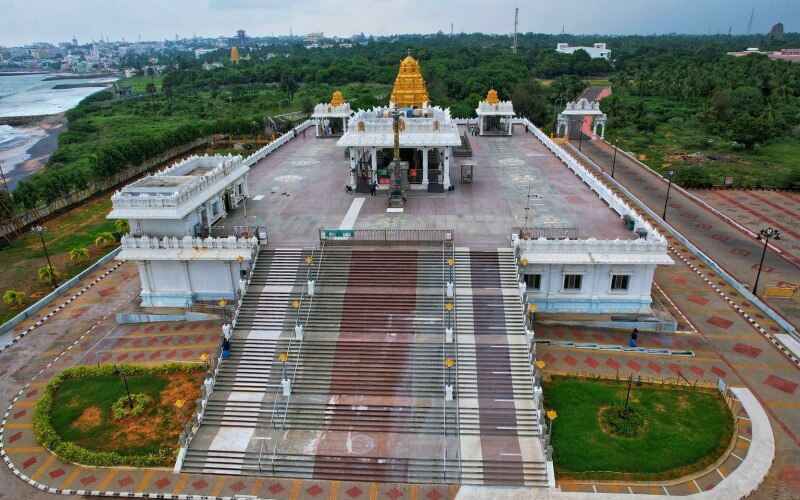 Pamper yourself with a rejuvenating spa massage and visit our signature restaurant to pick from its wide array of international and local meal options.
Kanyakumari Tirupati Temple
The Tirupati Temple in Kanyakumari was built to replicate the Tirupati Venkateswara Temple in Andhra Pradesh. It was inaugurated in 2019 and constructed on land covering an area of 5.5 acres on the premises of the Vivekananda Kendra situated near the shore in Kanyakumari. Thousands of devotees from Kerala and Andhra Pradesh took part in the celebrations and paid their respects.
The temple's construction started in July of 2013 and was designed so that the sunlight falls directly on the foot of the idol on the occasion of Vishu every year. Special sweets were brought all the way from Tirupati Devasthanam to be distributed as prasad. The nearby towns arranged for special buses for guests and devotees to witness this pious occasion. About 2000 people were employed to keep the security in check.
The temple is open to the public every day from 6 am and closes at different times on different days. It closes at 7 pm on Sundays, 11:30 pm on Mondays, and 8 pm on Tuesdays to Fridays. It's open from 6 am to 6:45 am on Saturdays, after which it opens again at 9:30 am and closes at 8 pm. You can keep aside about an hour and 30 minutes to offer your prayers at this temple.