Shopping Places in Kanyakumari to Know About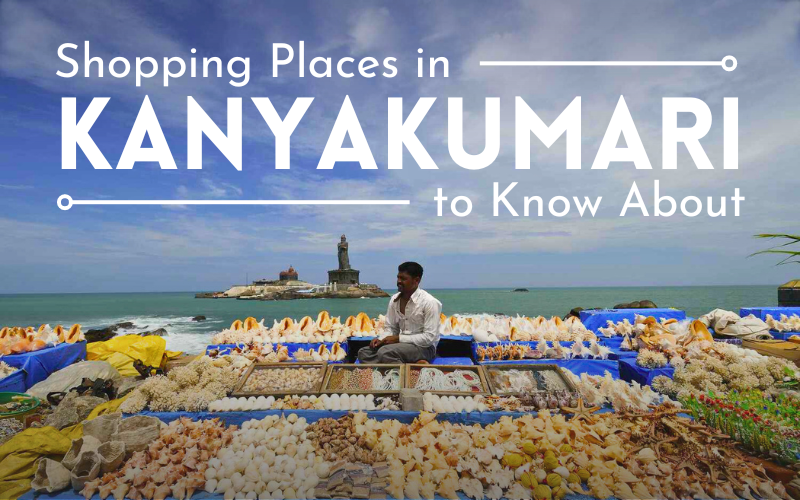 When we think of peaceful vacations in India, quite a few names come to mind, and among those many destinations, it's impossible to not count Kanyakumari. Situated at the southernmost point of the country, Kanyakumari is known for its gorgeous beaches that offer mesmerizing views of sunrises and sunsets, temples, churches, and just the kind of peace that so many travelers seek.
There are also many shopping places in Kanyakumari that tourists can visit in order to grab some beautiful items for themselves along with souvenirs for their friends and family. After all, what's a holiday without some much-needed retail therapy, right?
Where to Shop at in Kanyakumari
While planning your itinerary, you could be wondering what are the famous things to buy in Kanyakumari or which Kanyakumari shopping market you should add to your list. Well, luckily for you, we're here to help you out.
Here are some of the shopping places in Kanyakumari that should be a part of your holiday:
Kanya Handicrafts
Kanya Handicrafts is the oldest handicrafts store in Kanyakumari. With almost 1000 products available both in-store and on their website, theirs is a staple name in the field of handicrafts. Tourists looking for lamps, paintings, brass statues, and wall hangings can look around the store and grab the products created by expert craftsmen. The store also has some exquisite paintings from the late Indian painter, Raja Ravi Varma, which you can add to your collection.
Tamil Nadu Shopping Center
The Tamil Nadu Shopping Center is one of those shopping places in Kanyakumari that has a bit of everything, right from sweets and groceries to clothes and accessories. There are also electronic items available at budget-friendly prices that you can take a look at while walking around this particular shopping arena.
Stalls At the Beach and Street Markets
There is something thrilling about shopping at local markets or from beach stalls, is there not? Well, Kanyakumari offers you many chances to experience this. Don't forget to catch the various seashell products and customizable conches available in these areas that will be the ideal gift for your loved ones. Browse through straw clips and hats created using coconut shells that you can take back home to serve as memories from your delightful trip.
Co-Optex Sales Emporium
The southern region of India is known for its eclectic collection of sarees, and you can lay your eyes on them at the Co-Optex Sales Emporium. Be it silk sarees, cotton sarees, Kerala sarees, or sarees that are a mix of silk and cotton, they have it all. The store also sells bedsheets, curtains, towels, yoga mats, and other types of accessories.
Planning A Stay in Kanyakumari
As you plan your holiday to explore all the famous things in Kanyakumari, book your stay in a luxurious room at the Gopinivas Grand Hotel to get just the kind of luxurious and decadent experience you deserve. Located near to the Kanyakumari Temple and the traditional bazaar of the coastal town, our hotel offers guests with a rejuvenating ambience along with spellbinding views and delicious cuisine.
Equipped with all the modern amenities, we ensure that everyone who walks through our doors is met with high-quality services that include express laundry, valet parking, and an uninterrupted internet connection. Being one of the most reputed hotels in Kanyakumari, the accommodations we provide are the perfect combination of comfort and convenience.
Relish the scrumptious cuisine at our restaurant or indulge in a refreshing massage during your time here at The Gopinivas Grand. Reach out to us through our website or give us a call at +91-88254-66315 to reserve your rooms seamlessly. Visit Us!