Authentic And Famous Foods in Kanyakumari You Must Try at Least Once
Kanyakumari, like the other districts of Tamil Nadu, has its food specialty that gives you a glimpse into the culture and taste of the region. Rice and tapioca are some of the locals' most common staple food, which you can enjoy in different forms. Along with the local produce, you will find that most people in Kanyakumari prefer to follow a non-vegetarian diet. Since the city is part of the coastal area with a major fishery base, you will find that seafood is quite the famous food of the Kanyakumari region. Let us look at what regional food items are famous in Kanyakumari.
Minced Parotta
Minced Parotta or Kothu Parotta is a unique dish made of minced parotta pieces mixed with chicken or egg and fried with chalna (a masala curry that accompanies parotta) to give a fantastic taste. The sight of mincing and mixing the ingredients and the aroma will make you want to try it. The best restaurants in Kanyakumari that cater to regional food will serve Minced Parotta, and you should try it.
Thengai Sadam (Coconut Rice)
Rice is one of the staples in the district of Kanyakumari, and Thengai Sadam, or Coconut Rice, is a delicious twist to the simple dish. Plain white rice is mixed with ample fresh coconut gratings and seasoned with mustard, asafoetida, urad dal, curry leaves, green chilies, and cashew nuts. Most hotels in Kanyakumari will serve Coconut Sadam with papadums on a banana leaf, and the comfort dish will leave you satiated and happy.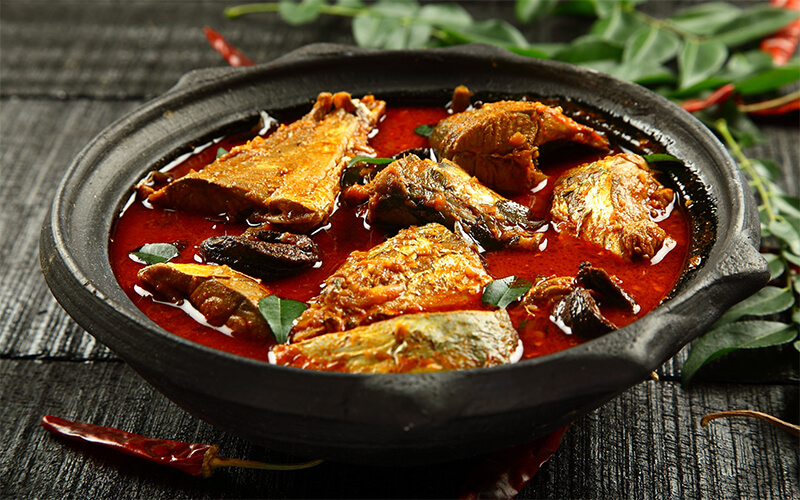 Meen Kuzhambu (Fish Curry)
Any coastal region will always have its fish specialty, and Kanyakumari offers a variety of meen kuzhambu. The traditional curry is a mouth-watering dish in which fish is cooked with fresh coconut gratings or ground coconut, and by enhancing the flavor by adding sliced pieces of raw mango, whenever available. The refreshing taste of the fish curry is prevalent throughout Tamil Nadu. Visit Hotel Gopi Nivas Grand, the best seafood hotel in Kanyakumari, for the best Meen Kuzhambu. Visit us!
Avial
Kanyakumari is located close to Kerala, so certain dishes like avial are similar between the two states. You will find avial to be a pallet-pleasing stunner which also gets prepared with great use of coconut. Though the avial is a simple preparation using a large variety of locally available vegetables cooked with coconut paste and simple spices, you will find its aroma and taste very mouth-watering. No wonder avial is one of the most famous foods of Kanyakumari.
The coastal city has lots to offer regarding regional, Indian, and Continental cuisine, provided you find suitable accommodation in Kanyakumari. The prestigious Gopi Nivas Grand hotel serves a wide range of delicacies from all over India along with Continental fare in its multi-cuisine restaurant.
Get in touch with us regarding the famous food of Kanyakumari on our menu, and we will be ready to offer you the best gastronomical experience.