Popular Tourist Places in Kanyakumari You Shouldn't Miss Out On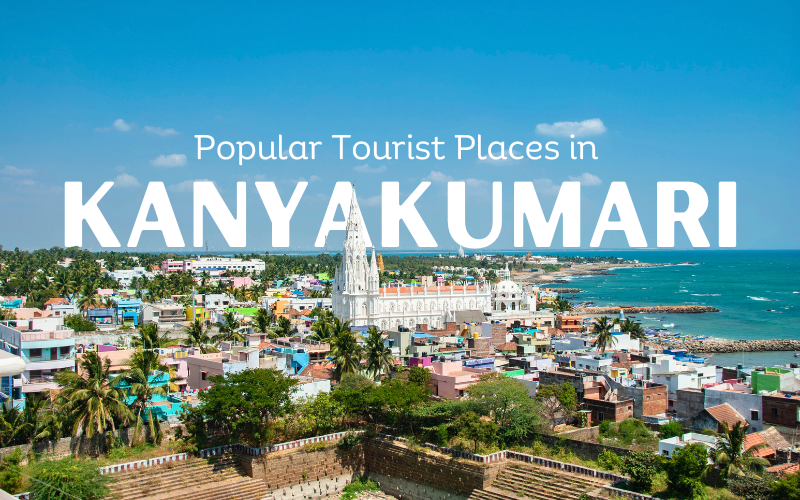 Traveling allows us to keep all our worries aside for a couple of days and lose ourselves in a world of peace and quiet. If that's what you're striving for, then Kanyakumari is just the place for you to visit. Located in the southernmost tip of India, this serene coastal town is a delightful mixture of architectural marvels and rich history. In this article, we will shed light on the most famous spots in Kanyakumari that should be present on your must-visit list. Finding tourist places near hotels in Kanyakumari is an easy task when you book your stay with us at the Gopinivas Grand. Being one of the most reputed hotels in Kanyakumari, our goal is to make your vacation as comfortable as possible.
Tourist Places in Kanyakumari to Add to Your Itinerary
Jotting down the places to visit in Kanyakumari? Here are some of the most loved and popular spots to include in your itinerary:
Vivekananda Rock Memorial
Built in 1970 in honor of Swami Vivekananda, the Vivekananda Rock Memorial is known to be the place where Swamiji attained enlightenment after meditating at that very spot for three days in 1892. The primary attractions of the Vivekananda Rock Memorial are namely Vivekananda Mandapam and Shripada Mandapam. Boats are operated by Bhoompur Shipping Corporation for tourists to visit Vivekananda Mandapam. The service runs on a daily basis between 8 am to 4 pm.
Kanyakumari Beach
Serving as a point of convergence of the Bay of Bengal, the Indian Ocean, and the Arabian Sea, Kanyakumari Beach truly is a sight to behold with its hues of sea green, deep blue, and turquoise blue. Although it's not possible to engage in water sports at this beach, one can spend a substantial amount of time just strolling around the beach and taking in the stunning views.
Kumari Amman Temple
The Kumari Amman Temple, which is also known as the Kanyakumari Bhagavathy Temple, is a temple dedicated to Goddess Kanyakumari Amman which was established 3000 years ago. Legend says that Swami Vivekananda had paid a visit to this very temple upon the instructions of his guru, Sri Ramakrishna Paramahansa. The temple is one among the 108 Shakti Peethas and holds tremendous religious and spiritual significance.
Thiruvalluvar Statue
The Thiruvalluvar Statue was constructed between 1990 and 1999 to honor Thiruvalluvar, a respected Tamil philosopher and poet. Standing at a height of 133 feet and perched on a 38-foot three-tiered pedestal, the height of the pedestal has a connection to the 38 chapters of virtue in Thirukkural, a literary creation by Thiruvalluvar. When observed closely, the statue shows three fingers of the figure pointing to the sky, representing the three stanzas of the aforementioned literary work.
Padmanabhapuram Palace
Created in the 16th century, the Padmanabhapuram Palace is an example of architectural brilliance. Constructed by Iravi Varma Kulasekhara Perumal, who was the ruler of Venad between 1592 and 1609, the palace depicts India's diverse and rich cultural heritage. As travelers walk around the palace, they will come across numerous interesting items and artifacts, including brass lamps, weapons, old Chinese jars, paintings, large mirrors, and sculptures made of wood and stone.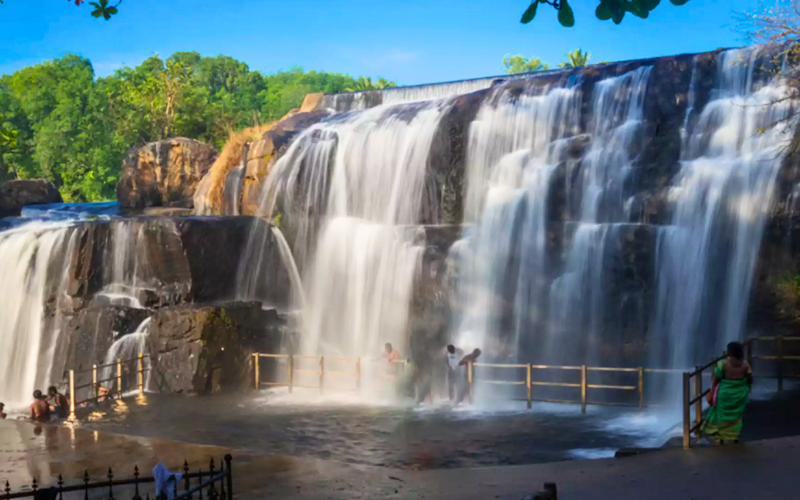 Thirparappu Falls
Thirparappu Falls is an artificial or manmade waterfall where the waters cascade from a height of 50 feet. Surrounded by lush greenery, the indigenous fauna engulfing the waterfall makes for a gorgeous landscape and a spectacular Instagrammable spot. A temple dedicated to Lord Shiva is situated at the entry point of these falls, which is highly revered by the local population.
Hotel Booking in Kanyakumari with Gopinivas Grand
We know exactly how strenuous it can be to plan a trip and take care of all the elements, including booking the accommodation in kanyakumari. So, if you're planning a trip to the southern part of India and are looking for hotels in Kanyakumari, your search ends right here with us at the Gopinivas Grand Hotel. Providing our guests with the perfect concoction and combination of comfort and luxury, your hotel booking in Kanyakumari is bound to get infinitely simpler when you plan your accommodation with us.
Situated right in the heart of the town of Kanyakumari, our hotel is located near most of the popular tourist spots, including the beach and the bazaar. Having the convenience of accessing tourist places near hotels in Kanyakumari could be a question you ponder while making your travel plans, and we aim to make that very part easier for you. Along with scrumptious cuisines and a lavish atmosphere, we also welcome our guests with the best of amenities, such as valet parking, express laundry, and high-speed internet connection. So, what are you waiting for? Get in touch with us through our website or give us a call at +91-88254-66315 to reserve your rooms. Visit Us!