Vivekananda Rock Memorial: One of the Top Tourist Places Near Hotels in Kanyakumari
Kanyakumari offers an incredible experience to people, irrespective of whether they're looking for leisure or spirituality. Besides the Bhagavathi Amman Temple, there are plenty of tourist places in Kanyakumari, including the Thiruvalluvar Statue, Triveni Sangamam, Gandhi Memorial, etc. But what piques most people is the Vivekananda Rock Memorial, arguably one of the most popular tourist places near hotels in Kanyakumari. Read the blog to learn more about the place: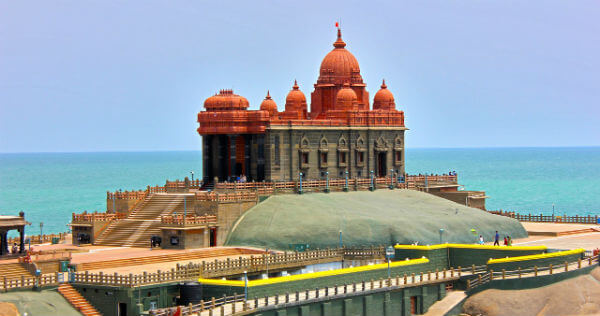 All That You Wanted to Learn About Vivekananda Rock Memorial History
The memorial was built in 1970 to honor Swami Vivekananda. To the uninitiated, Swami Vivekananda was an Indian Hindu monk who enlightened the world with his spiritual thoughts and interpreted Indian theology in the light of science. He is believed to have attained enlightenment on the rock.
The memorial consists of two structures, Vivekananda Mandapam and Shripada Mandapam. The Vivekananda Mandapam structure includes Dhyana Mandapam, Sabha Mandapam, and Mukha Mandapam. The memorial is inspired by the Ajanta and Ellora cave temples.
The Shripada Mandapam is a sacred site for Hindus who believed that Goddess Parvathi did penance on this rock to obtain Lord Shiva's hand for marriage. You can still see the natural projection that seems similar to a tiny footprint in the garbha graham. The mandapam is a square hall built according to the Ayadi Pramana Lakshanam and is reminiscent of Chola architecture. The Garbha Graham or Sanctum Sanctorum is surrounded by the Inner Prakaram, Outer Prakaram with 28 pillars, and the Outermost Praharam, an open platform.
The memorial has geological significance as well – the Charnockite rock upon which it is built is called the Gondwana Junction because it is probably the place where India, Madagascar, Sri Lanka, East Antarctica, and Australia were once joined before separating over 50 million years ago.
How To Reach the Vivekananda Memorial Rock?
Vivekananda Rock Memorial is only one of the many tourist places near hotels in Kanyakumari. Visiting time ranges from 8.00 am to 5.00 pm, and the entry fee is Rs 20 per person. To reach Vivekananda Rock Memorial, you need to take a boat service run by the Poompuhar Shipping Corporation.
Where To Stay in Kanyakumari?
If you are looking for top hotels near Vivekananda Rock in Kanyakumari, we suggest visiting us. At the Gopinivas Grand, we combine modern amenities with traditional values to offer you the best experience ever. While visiting Kanyakumari, make sure the accommodation is comfortable yet within your budget. Here's the link https://g.page/r/Cc0walvxFpQpEAE to reach us quickly and easily.