3 Things to Know Before Booking Hotels Near Kanyakumari Devi Temple
Kanyakumari district gets its name from the village of Kanyakumari, which in turn owes its name to the Bhagawathi Amman Temple dedicated to Devi Kanyakumari. She is believed to be an incarnation of Parashakti, who took on the form of a virgin to kill the demon Banasura. The temple is mentioned in several ancient Tamil & Sanskrit literature, including Ramayana, Manimekalai, and Purananooru. If you are planning to visit the place and looking for hotels near Kanyakumari Devi Temple, read on: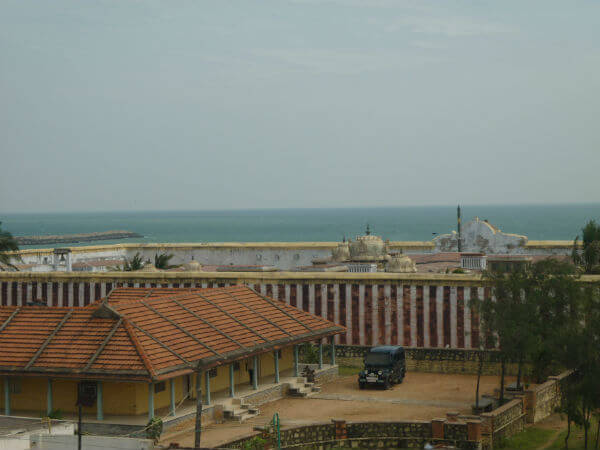 Kanyakumari Devi Temple History:
The temple is believed to be over 3000 years old and was supposedly built by the Pandyas. It was later rebuilt by various kings belonging to the Vijayanagara, Chola, and Nayaka empires. Later, the temple became part of the Travancore kingdom and Tamil Nadu when Kanyakumari was ceded during independence. There are also anecdotes about Adi Sankaracharya composing Soundarya Lahiri after visiting the Kanyakumari temple.
Kanyakumari Devi Temple Timings:
The temple is open from 4.30 am to 12.30 pm and from 4.00 pm to 8.00 pm. The temple entrance is through the Northern Gate; however, it is open through the Western Gate as well. The Eastern Gate remains closed except for a few occasions and annual events like Chitra Pournami, new moon days in the month of Edavam, Navratri festival, and Vaikasi festival.
Devi Kanyakumari Temple Dress Code:
While the temple is now part of Tamil Nadu, it still follows rites and rituals associated with Travancore Devaswom. This includes the daily puja rituals performed five times a day by Kerala Namboothiris. As a part of these rituals, men must be bare-chested (although they may cover themselves with a towel), and women must wear a saree or churidar.
If you plan to visit the temple for the first puja of the day, starting at 4.30, it's best to choose hotels near Kanyakumari Devi Temple. You can not only avail darshan during the early hours but also admire the beauty of the temple from close quarters.
The Gopinivas Grand is one of the closest hotels in Kanyakumari near temple – it takes 7 minutes if you walk and 2 minutes by car. We promise excellent accommodation at affordable prices. We offer a multicuisine restaurant, safe lock, express laundry, valet parking, and a recreation area, among other amenities. Follow the link https://g.page/r/Cc0walvxFpQpEAE to reach our hotel in the shortest possible time.