Vivekananda Rock Memorial- A Historical Place to Visit in Kanyakumari
One of the most popular tourist attractions of Kanyakumari is Swami Vivekananda Rock Memorial. Established in 1970, this historical monument is located at about 500 metres east off mainland of Vavathurai. The main purpose of constructing the building is to honour the spiritual teacher and philospoher Swami Vivekananda.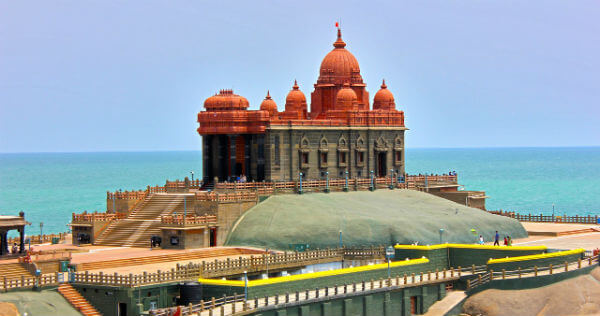 Tourists who are planning to visit this memorial have to catch up an boat and visit the historical place with great fun. Sailing in Kanyakumari beach will always offer the best sea experience for all the adventure lovers.
History of Swami Vivekananda Memorial
Few of the historical sources reveal that Swami Vivekananda came down to Kanyakumari in the year of 1892. Before moving to Chicago, the philosopher visited this heritage destination to acquire peace. Swami Vivekananda sat on this rock for meditation and achieved great wisdom and knowledge.
Later on, it was opened in 1970 with the use of various architectural styles of India. The Memorial was established with the help of 650 men and it took 2081 working days to complete the construction.
Structures of Vivekananda Rock Memorial
Swami Vivekananda Rock Memorial is considered to be the masterpiece of the ancient period. Many tourists visit this monument to know about the historical facts and figures in a detailed manner. This fascinating memorial consists of two main structures such as:
Vivekananda Mandapam
The Vivekananda Mandapam looks elegant and it reflects the ancient culture. It is similar to Sri Ramkrishna temple which is in Belur. You need to know that the entire building is designed by overlooking the Ajanta and Ellora cave temples. In the main hall, there is a dome which holds a life-size statue of Swamiji.
Tourists can find the Dhyana Mandapam located close to the main hall. It is a place where the people use to sit and meditate in a serene atmosphere.
Vivekananda Mandapam holds a Meditation Hall, Sabha Mandapam, Mukha Mandapam, Front Entrance Steps and so on.
Sri Pada Mandapam
Also known as Sri Pada Parai, this mandapam holds puranic tradition in origin. When you visit the place, you will see a small projection of a human foot. This mark was made by Goddess Kanya at the time of her penance.
It is basically a square hall that includes Garbha Graham, the Outer Prakaram, the Inner Prakaram and the Outer Platform. Both the above mandapams are designed keeping in view the statue of Swami Vivekananda.
Entry Fee: Rs 10.00
Ferry Fee: Rs. 30.00
Visiting Hours: 7 AM to 4 PM