A Quick Look on the Heavenly Destination – Kanyakumari
Kanyakumari is basically a mesmerizing destination that is situated in the southern state of Tamil Nadu. It is also a beach paradise and sanctified spiritual address of Hindus. This heritage destination is visited by thousands of national and international travellers across the world. Kanyakumari is very unique and surprisingly impressive. The Gopinivas grand, a best Hotel Accommodation in kanyakumari which is located near the sea shore.
You need to know that the district is widely known for its two distinctive geographical features such as:
Kanyakumari is the meeting point of three great seas such as Indian Ocean, Bay of Bengal and Arabian Sea.
It is also considered to be the land's ending point of Republic of India.
Kanyakumari – A Paradise on Earth
Located at about 700 km from the busy metropolis of Chennai, Kanyakumari is a picturesque tourist destination in South India. This pretty hamlet is filled with a number of enchanting tourist spots, religious temples, heritage monuments, beach resorts, star hotels and much more. Anyone planning to visit a cool travel destination can step into Kanyakumari for the ultimate experience.
Kanyakumari was once called as Cape Comorin during the British Rule and later changed to Kumari Mona. The actual name Kanyakumari was derived from the Goddess Kumari Amman. If you are in Kanyakumari, then the first place to visit should be Kumari Amman Temple. This is because the temple goddess is powerful and all your wishes will be fulfilled. Stepping into the city will enable you to glimpse at the splendiferous hills, green fields, waving vales, sublime spots of red cliffs and so on.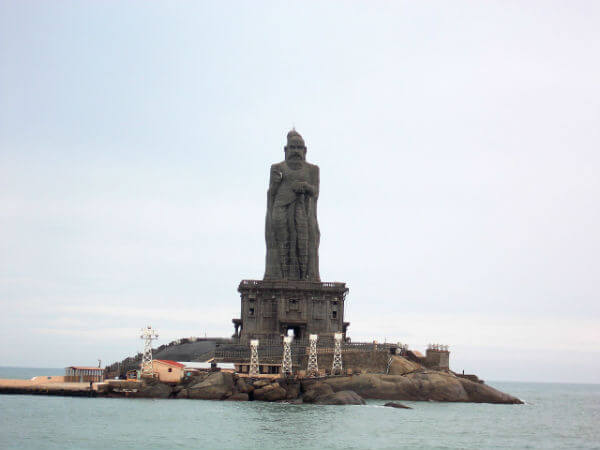 Religious Sites in Kanyakumari
Many international travellers visit the destination to overlook at the religious sites of Kanyakumari. All these sites hold wonderful architecture and ancient history. People residing in the city are mostly tamilians and they maintain the religion beliefs and religious sites with utmost care. Apart from architecture, the religious sites in Kanyakumari are connected to a traditional tile. Every temple in the town has an ancient history with it.
The religious sites located in Kanyakumari are 100 years old and they are constructed by significant kingdoms of South India. Some of the popular sites of the city include:
Kumari Amman Temple
Guganathaswamy Temple
Peer Mohammed Durha
Chitharal Jain Temple
Swamithoppe Pathi
Nagaraja Temple, Nagercoil
Bheema Nagari Amman Temple
Church of our Lady of Ranson
St. Xavier's Church
Beaches in Kanyakumari
The beaches in Kanyakumari are highly visited by adventure travellers and leisure lovers across the world. The spectacular scenes of sunrise & sunset, serene beauty of shores and cal environment makes the spot admirable among the people. People who are unaware of the beaches in Kanyakumari can have a look at below:
Kanyakumari Beach
Mutton Beach
Shotharilai Beach
Thengapattinam Beach
Thekkurichi Beach
Tourist Information
Hotel Accommodation-The Gopinivas Grand
The Gopinivas Grand the best hotel accommodation in Kanyakumari, which is one of the luxury 3 star hotels in Kanyakumari is located near the Kumari Amman temple. It offers a wide range of facilities including air conditioned rooms, mulitcuisine restaurant, conference rooms, parking space, indoor games, massage on request, valid car parking and much more.
For enquiries, you can contact them on below address:
The Gopinivas Grand
Address: East Car Street, Near Seashore, Kanyakumari, Tamilnadu, India. Pincode : 629702
Voice: +91(0) 4652 24 61 61 / 24 62 62
Email: mail@thegopinivasgrand.com
Website: www.thegopinivasgrand.com